An Artistic Tour of Mosiah 1-8
BOOK OF MORMON ART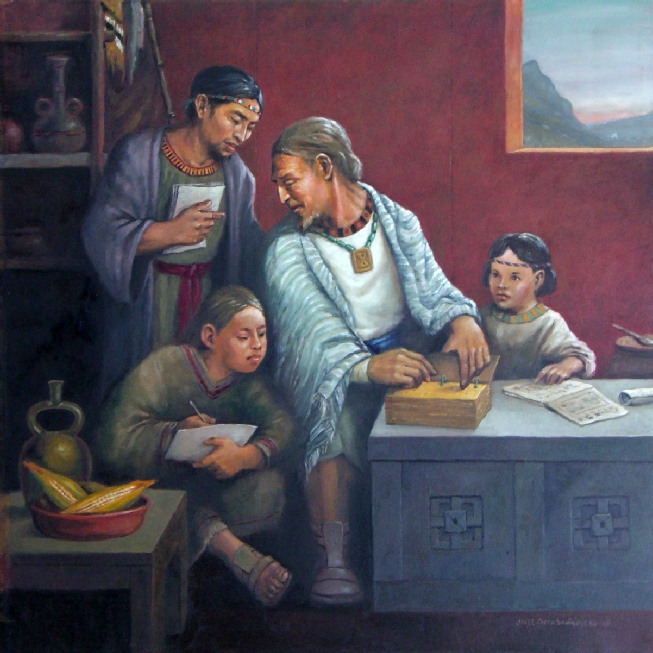 El Rey Benjamín enseña a los hijos
Jorge Cocco Santangelo
King Benjamin Teaches His Children
Mosiah 2
BOOK OF MORMON ART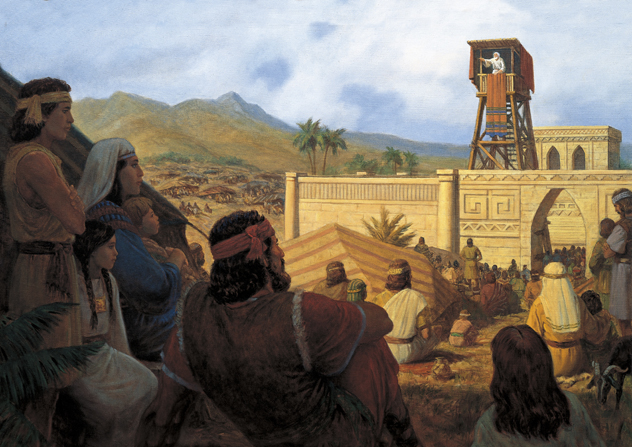 King Benjamin Preaches to the Nephites
Gary L. Kapp
Mosiah 2:5
BOOK OF MORMON ART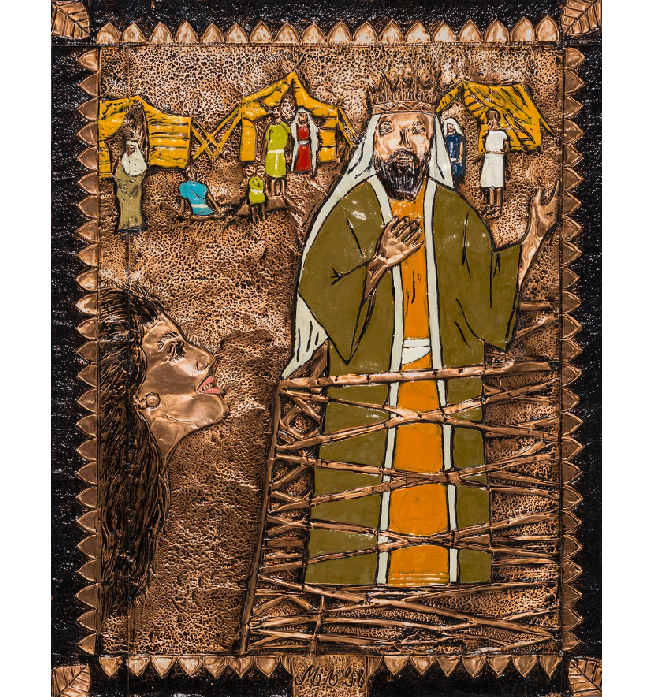 Receiving the Teachings of King Benjamin
Maria Alejandra Gil.
Enamel on repoussé copper
Mosiah 2:6
BOOK OF MORMON ART
Jorge Cocco Santangelo
BOOK OF MORMON ART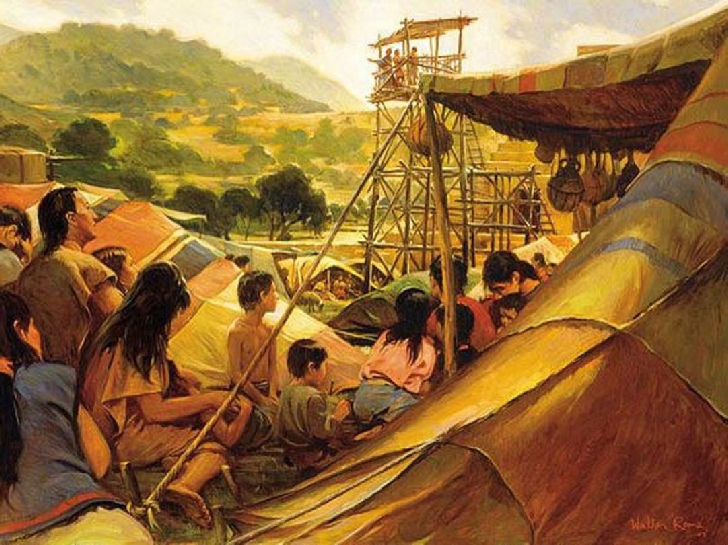 Walter Rane
Oil on board. 2003. Commissioned.
The Book of Mormon tells of beloved King Benjamin, who taught his people by word and deed. He spoke of his reign, and how he himself had labored, so that he people would not be taxed to support him, and then taught them this wonderful truth:
"And behold, I tell you these things that ye may learn wisdom; that ye may learn that when ye are in the service of your fellow beings ye are only in the service of your God."
Mosiah 3 – 5
BOOK OF MORMON SONG
"King Benjamin"
Sacred Hymns of the Book of Mormon, 14.
Marilyn Arnold and Maurine Ozment
The Book of Mormon tells the happy story of a time in Nephite history when they had a very good leader, King Benjamin. He led his people to live peacefully; he set an example of righteous living for them; he didn't even tax his people to support him, but worked for his own support. Finally, before he died, he taught them about their Savior Jesus Christ, and encouraged them to make a covenant to follow their Lord, a profound discourse remembered for generations, and one which can still instruct us today.
King Benjamin, a holy man, in righteousness he reigned.
By strength of faith and might of will, the victory he gained.
On plains of war and fields of peace he crushed the serpent's head;
With wisdom, hope, and selfless life – with virtue pure he led.
Mosiah 3:13
BOOK OF MORMON ART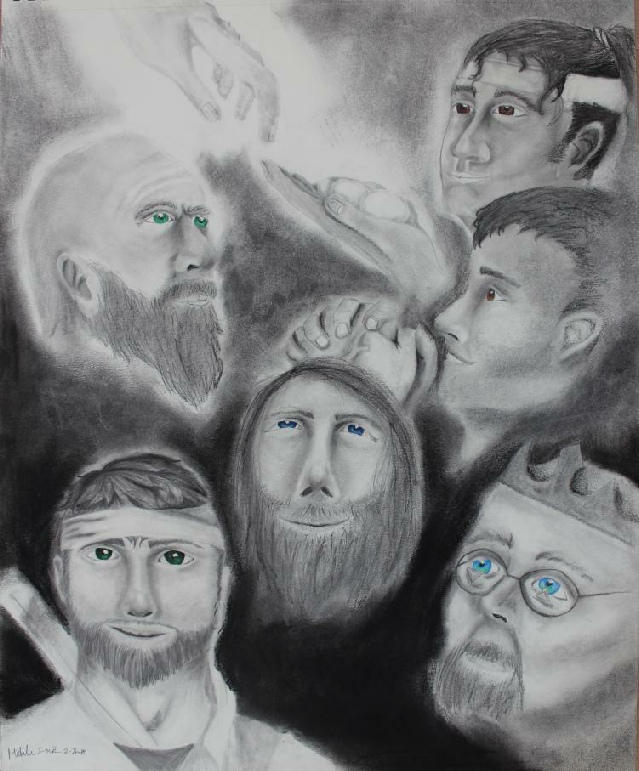 Michelle Smith
This is a collage of six Book of Mormon prophets. Starting in the top right is the Brother of Jared with the stones. Going clockwise we next have Enos praying, then King Mosiah wearing the Urim and Thummim. Next is Nephi with his bow, then Abinadi. The prophet Ether is then in the middle of the drawing.
Mosiah 3:19
BOOK OF MORMON ART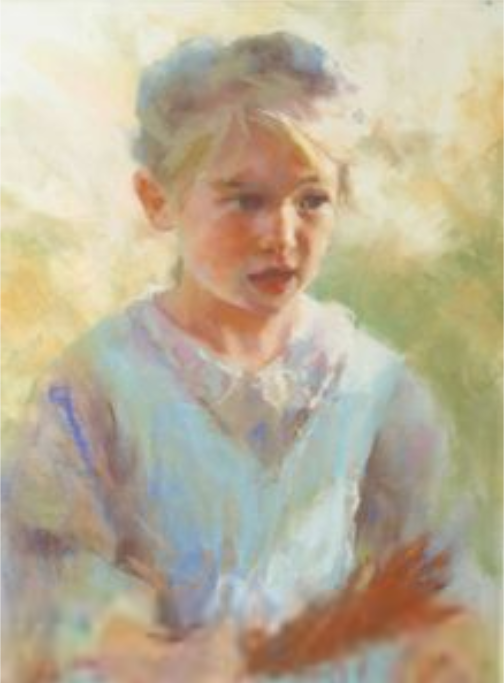 Pastel on Paper
The artist referred to two scriptures that inspired her as this painting was created: (1) Every spirit of man was innocent in the beginning; and God having redeemed man from the fall, men became again, in their infant state, innocent before God" (Doctrine and Covenants 93:38). (2) "For the natural man is an enemy to God, and has been from the fall of Adam, and will be, forever and ever, unless he yields to the enticings of the Holy Spirit, and putteth off the natural man and becometh a saint through the atonement of Christ the Lord, and becometh as a child, submissive, meek, humble, patient, full of love, willing to submit to all things which the Lord seeth fit to inflict upon him, even as a child doth submit to his father" (Mosiah 3:19).
Mosiah 4:12
BOOK OF MORMON ART
Chalermchai Hanjakkham
1981, Thailand – oil on canvas
Our Savior created all things with His love through His words, and we can feel God's love through all things around us. The followers of Christ can inherit eternal life, for everyone who keeps the Lord's commandments, acts in faith, and works righteousness will receive a crown of eternal life. "For behold, this is my work and my glory—to bring to pass the immortality and eternal life of man" (Moses 1:39).
Mosiah 4:19
BOOK OF MORMON ART
Stephanie Kay Northrup
acrylic on panels
Mosiah 4:19
BOOK OF MORMON ART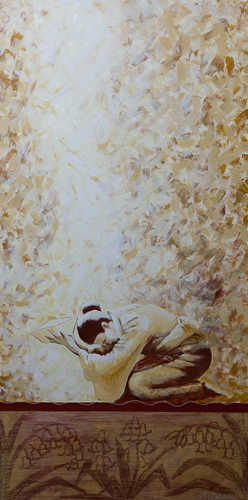 Stephanie Kay Northrup
"This is the same theme as my other piece by the same title that was shown at the LDS Church History Museum, just a more realistic take on the figure begging. This piece will be shown at St. Matthew Lutheran Church in Waco from Oct 27 to Nov 4, 2012. The bluebells represent grattitude in the Japanese language of flowers.
"Consider the lilies of the field, how they grow; they toil not, neither do they spin:
And yet I say unto you, That even Solomon in all his glory was not arrayed like one of these...shall he not much more clothe you, O ye of little faith?" Matthew 6:28-30"
Mosiah 6:3
BOOK OF MORMON ART
Oil on canvas
Mosiah 7:5,6
BOOK OF MORMON ART
The Hill North of Shilom
James H. Fullmer
https://archive.bookofmormoncentral.org/content/hill-north-shilom
Mosiah 7:6
BOOK OF MORMON ART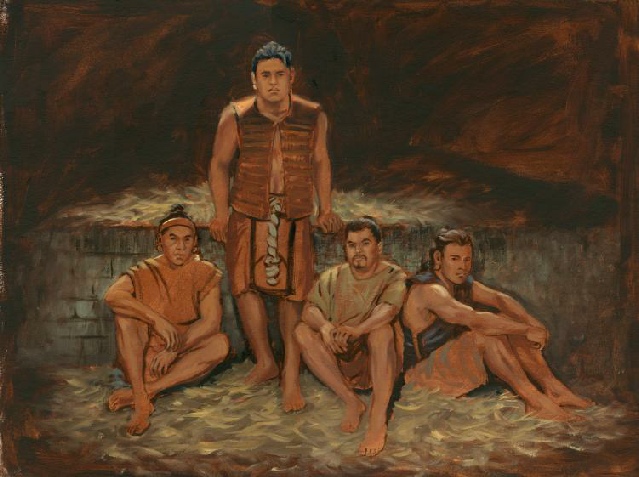 Ammon 1 (Descendant of Zarahemla)
Shortly after Mosiah was consecrated king by his father, Benjamin, a contingent of sixteen strong men, led by Ammon was granted leave to see if they could discover what had happened to the group of Nephites that were lost to them. This group had departed many years before, led by Zeniff to try to reinherit the lands of Nephi and had not been heard from since.
Ammon was a descendant of Zarahemla (Mulekite) and a Christian who had loved the words that King Benjamin had preached before he died. He also seems to have been given priesthood although did not feel worthy to use it when an opportunity presented itself to baptize king Limhi.
Ammon and his men wandered many days in the wilderness before coming to the city of Nephi. They saw the king outside the walls of the city and tried to approach him but were arrested and imprisoned for two days before they could expain who they were. King Limhi, was overjoyed when he found out who they were and, with the help of Gideon, Ammon were able to help them all escape from their Lamanite bondage and travel to the land of Zarahemla in the north where they would be safe.